Our Summer Camps 2022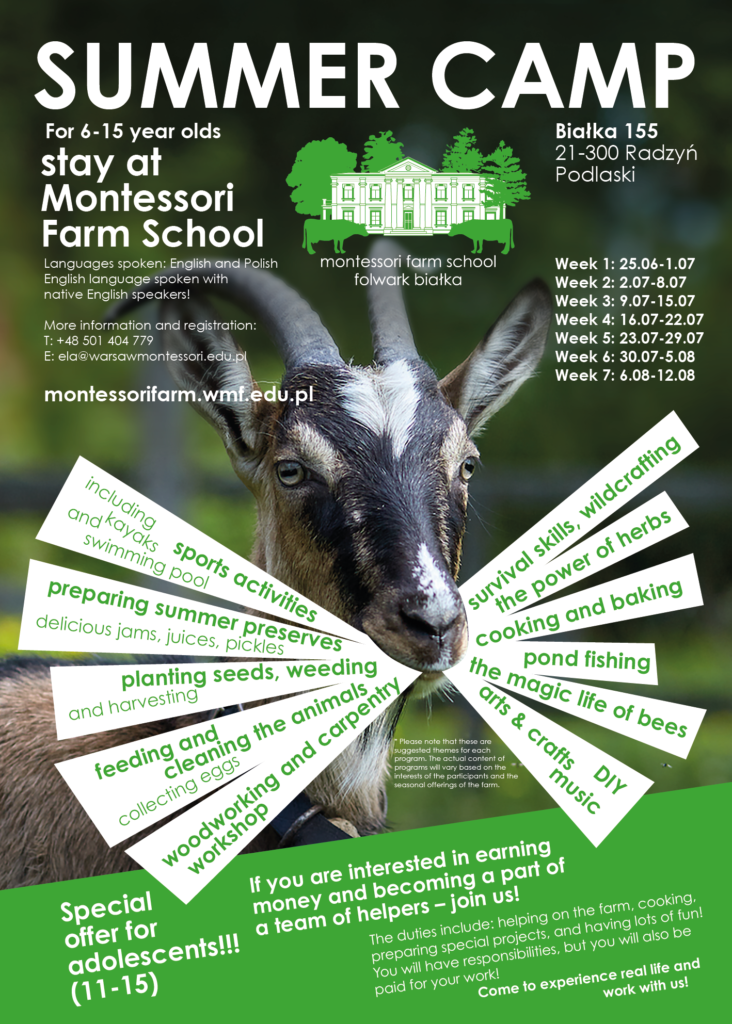 Dear Parents and Friends of Warsaw Montessori Family,
It is time to sign up for our Summer Camp at Montessori Farm School!
We have planned 7 unforgettable weeks at Folwark Białka from June 25 to August 12.
Age of participants: 6-15.
Summer Camp Dates:
Week 1 – 25.06 – 1.07
Week 2 – 2.07 – 8.07
Week 3 – 9.07 – 15.07
Week 4 – 16.07 – 22.07
Week 5 – 23.07 – 29.07
Week 6 – 30.07 – 5.08
Week 7 – 6.08 – 12.08
Languages spoken: English & Polish. English language spoken with English native speakers.
Each week will be different. It is unique opportunity to explore the wonders of the farm and its daily life, which include*:
Feeding and cleaning the animals, collecting eggs
Planting seeds, weeding, and harvesting
Preparing Summer preserves, delicious jams, juices, and pickles
Cooking and baking
The power of herbs – why we should know them
The magic life of bees
Woodworking and carpentry workshop
Survival Skills and Wildcrafting
Pond fishing
Arts & Crafts
DIY – interior design projects
Music and creating a Farm orchestra
Sports activities including kayaks and swimming pool
* Please note that these are suggested themes for each program. The actual content of programs will vary based on the interests of the participants and the seasonal offerings of the farm.
Special offer for adolescents!!! (ages 11-15)
If you are interested in earning money and becoming a part of a team of helpers – join us! The duties include: helping on the farm, cooking, preparing special projects, and having lots of fun! You will have responsibilities, but you will also be rewarded for your work!
Come to experience real life and work with us!
Where: Montessori Farm School Folwark Bialka
Białka 155, 21-300 Radzyń Podlaski
More information and registration:
E: ela@warsawmontessori.edu.pl,
T: 501 404 779
Parents will:
– Bring and pick-up your child from camp
– Supply your child a swimming suit and swimming hat
– Supply your child with a water bottle (labeled)
– Maximum time a student can attend is 2 weeks
Fees are 2 000 PLN a week.
This includes 24 hour supervision from our qualified staff of teachers, meals and snacks, sleeping quarters, and all activities.
Students of WMF have priority enrollment.
In the tradition of Montessori, we invite all children (6 – 15 yrs old) from all schools to enroll. Everyone is welcome!
Please fill out and sign the Application Form and send scans to ela@warsawmontessori.edu.pl
Join now as places are limited and filling-up fast!-