Family Picnic in Folwark Białka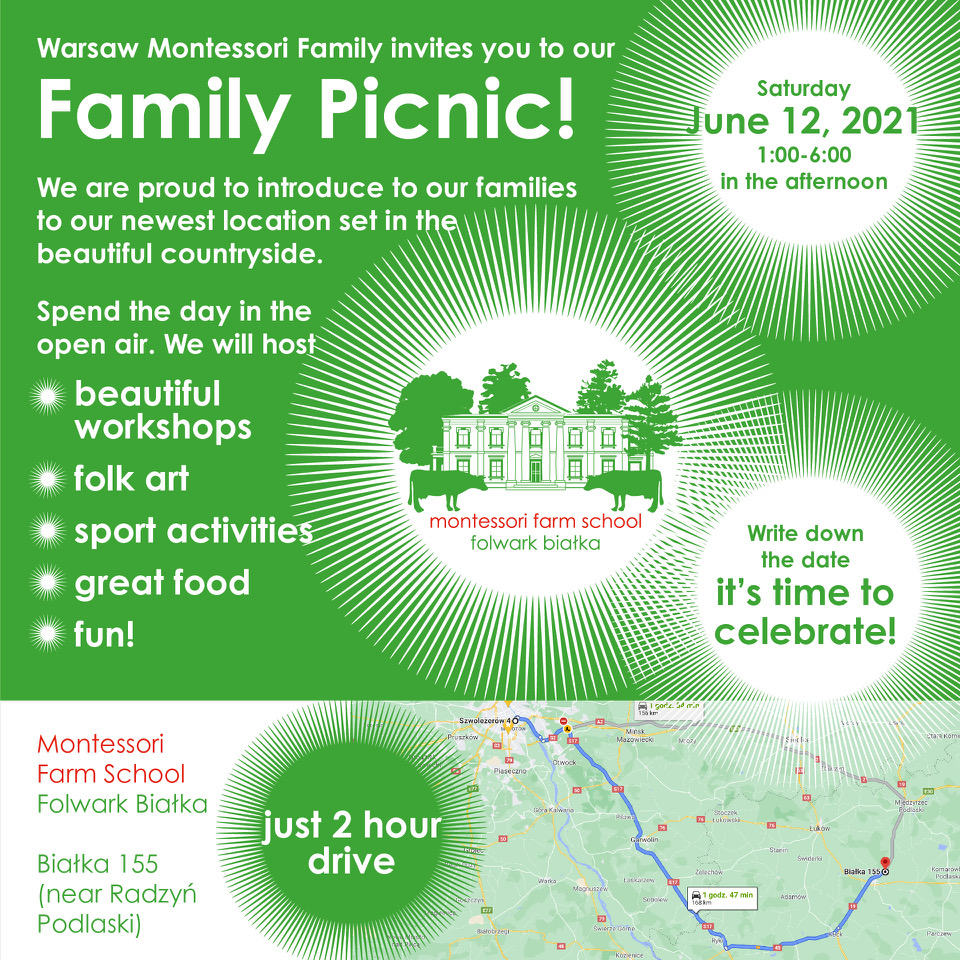 Dear All,
We are pleased to invite you to the inauguration of the new educational project named Montessori Farm School Folwark Białka!
It is a great opportunity to gather together after long months of isolation. We are also excited to show you our new place for our children.
We are convinced that the new Montessori Farm School project will not only enrich and expand the educational offer for our students but will also have a positive impact on their development. It will certainly be an unforgettable adventure and they will forever remember the experience and knowledge gained and prepare for entering adulthood.
On Saturday, June 12, in the privacy of a historic park, we will hold our first Family Picnic in the region of near Podlasie.
On this occasion we would like to invite all WMF families with their grandparents and relatives to Białka near Radzyń Podlaski where we will all meet in beautiful natural surroundings to relax and spend time together. Our children will have the opportunity to take part in many interesting activities.
We have planned many attractions for children and adults for that great day:
Workshops run by folk artists (folk ornaments, handicrafts)
A pottery workshop
Wicker and plaiting workshops
A weaving workshop
Sculpture and outdoor painting
Regional cooking (royal pancakes and baking cookies)
Baking 'sękacz' cake and cheese-making workshops
Ice cream to cool down
Large and small animals
Dinghy rowing on the pond
Sport games and activities
Enjoying ourselves with good music and delicious food
What to take?
comfortable sports shoes (no high heels! ☺)
a picnic blanket
and to strengthen the body and spirit of the community of WMF families – you can prepare something sweet to share for afternoon tea.
All members of the Warsaw Montessori Family are invited to our picnic. Our picnic is also open to your family, friends, co-workers, neighbors and special loved ones. Children of all ages are invited!
Find our farm on the Google Maps:
https://goo.gl/maps/Uy8VdqaHbdpM9hxVA
RSVP
Montessori Toddler School, Casa dei Bambini Warsaw & Izabelin Montessori
Ms. Kinga
T: +48 692 099 134 E: office@warsawmontessori.edu.pl
Warsaw Montessori School
Ms. Natalia
T: +48 608 488 420 E: elementary@warsawmontessori.edu.pl
Warsaw Montessori Middle School
Ms. Ewa
T: +48 604 137 826 E: middleschool@warsawmontessori.edu.pl
Warsaw Montessori High School
Ms.Ola
T: +48 787 095 835. E: highschool@warsawmontessori.edu.pl
You can find out more about Folwark Białka here >>> Montessori Farm School – Folwark Białka <<<