Our Summer Camps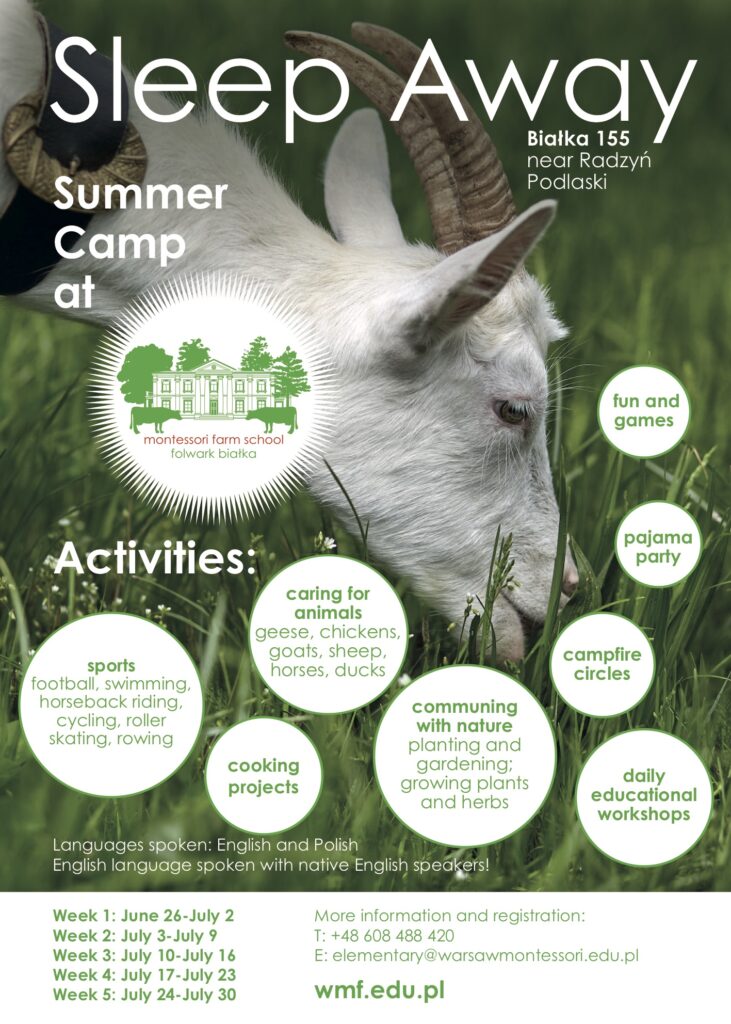 Summer Camp will soon be here! This year will be the start of a new program. Summer Camp will be a Sleep-over camp and held at our new location Montessori Farm School Folwark Białka, Białka 155 (near Radzyń Podlaski) .
You will see the location during our Family Picnic. Here the children will be away from the city and in the beautiful Polish countryside. They will roller-skate, take long bike rides, farm, garden, tend to the animals, ride horses, swim and much more!
New dates for our Summer Camp
Week 1 – June 26-July 2
Week 2 – July 3-July 9
Week 3 – July 10-July 16
Week 4 – July 17-July 23
Week 5 – July 24-July 30
Parents will:
· Bring and collect your child from camp.
· Supply your child with a bicycle, a helmet, and roller-skates
· Maximum time a student can attend is 2 weeks
Fees are 1900 PLN a week.
This includes 24 hour supervision from our qualified staff of teachers, meals and snacks, sleeping quarters, and all activities.
Students of WMF have priority enrollment.
In the tradition of Montessori, we invite all children ( 6 – 14 yrs old) from all schools to enroll. Everyone is welcome!

Join now as places are limited and filling-up fast!
You can find out more about Folwark Białka here